Whether setting up your projector for a class report, a job presentation, or for a movie presentation with friends or family's movie marathon night, the steps are more or less the same.
But before even buying a projector; you must know how you intend for your projector to be used. Keep in mind that there are many differences in projectors; some projectors are best used for school or office presentations while others are more fitting for home theaters (check out Epson EX review).
Once, you've figured that out, it's time to to know the set up.  
Setting Up A Projector
Make sure you have a screen.
Your projector will be useless if you don't have a screen to which the projector will be projected on. Although legit projector screens are optional, they are encouraged. However, you can also improvise by looking for an empty (more or less clean) wall which can also be used as your screen.
Place it on a table or a holder.
Some offices or even home theaters have their own projector holders (on the ceiling) but most commonly, projectors are placed on a table (allowing the projector to be a little bit above the bottom area of the screen) with the projector facing the screen.
Connect the wires, cables, sources.
Before connecting anything, make sure your projector and laptop are turned off. The projector comes with a source cable that you use in order to connect the projector to your laptop; simply check the ends of the cable to determine which ports they go into. Make sure you connect them securely.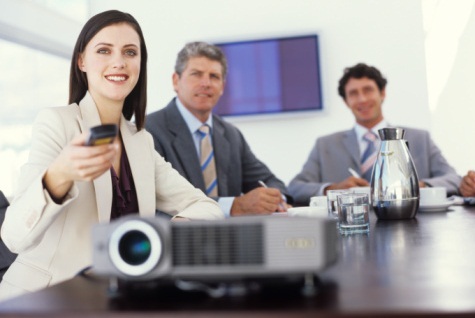 Turn on the projector and laptop.
Once everything has been settled in their rightful ports, start your laptop and projector. Some projectors, especially those that are old models, will take some time to load; just wait for it patiently and don't turn it on and off too many times. Give it a time to settle and make its connections with your laptop.
Make Adjustments
After the success of connecting it and turning it on, you can now adjust the distance between the projector and the screen according to your preference. You can also make adjustments of the projected images on the screen. On your projector, you will find buttons that pertain to the focus of your projector; adjust it accordingly.
Bottom Line
Knowing the right steps in setting up a projector is crucial especially if it won't be your first and last time setting up this device. Projectors are commonly used, together with speakers (sometimes with amplifiers), in schools, offices, or even during events and so, having the knowledge of the setup is very beneficial.
Projectors are not cheap. Hence, they must be used with utmost care in order to maximize their shelf life. Do not go for shortcuts such as having both projectors and laptops on before even connecting them to each other; this will only lead to damages eventually.